Järla har sedan nästan 10 år tillbaka ett vänklubbssamarbete med den schweiziska klubben OLV Baselland.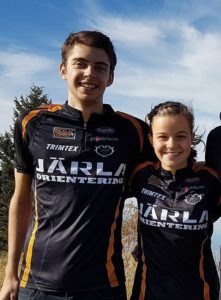 Till nästa år kommer de båda landslagsjuniorerna Sofie Bachmann och Chamuel Zbinden springa för Järla.
Sofie som 2018 tar steget upp i seniorklass tog på sommarens junior-VM i finska Tammerfors silver i stafett och brons på långdistans. Under junior-VM på hemmaplan i Schweiz 2016 var var hon med i det segrande laget i stafetten och tog även då hem en individuell bronsmedalj på långdistans. Nedan får vi en kort intervju med Sofie och Chamuel.
Who are you? My name is Sofie, I am 19 years old and I am from a small village close to Basel in Switzerland. Since September I am living in Bern though because I started studying English and Geography at the university of Bern. Besides orienteering I enjoy being outside and doing sports like hiking, cycling and XC skiing.
What are your best results so far?
At this year's and last year's JWOC I won the bronze medal in the longdistance as well as three medals in the JWOC Relays (2x silver and 1x gold).
This year seems to have been really good. What are your best memories from the season?
Definitely my races at JWOC. Before JWOC I spent about one month in Finland, which was my first time staying in Scandinavia for a longer period of time. During the JWOC races I could stick to my plan and really apply what I had learnt during my stay. Seeing eventually that the work I put in payed off was a great feeling.
During my time preparing for JWOC in Finland I also participated in my first ever 'big' Relay, the Venla in Joensuu, with my Swiss Club OLV Baselland. Even though I did not have a great race, it was such an awesome experience! Being on a massstart with so many other runners was definitely one of this year's highlights as well.
Next year is your first as senior, What are your expectations and goals?
The step from the juniors to the seniors is definitely a big one so I am going to have to improve a lot in all aspects of orienteering. Next week the selections for the Swiss Elite Team are going to be released and hopefully I will be able to make the team, so that I can profit from all the training possibilities and get better! My main goal for next year in terms of results will be to qualify for WUOC.
Chamuel som nästa år gör sitt första år i H20 är yngre bror till Noah som sprang både 10-mila och 25-manna för oss. Han blev i somras 3:a på sprinten på Ungdoms-EM (EYOC) i Slovakien.
What is your best results so far?
My best result so far is the third place at the Eyoc Sprint this year and the second place at the Eyoc Long 2015. But I'm really happy with the 35 place at this years Jukola with the OLV Baselland first team and the 30 best leg time.
What is your goal for next season?
My goal for the next season is basically to be healthy because this year I was often injured. My second big goal is to select me for the JWOC in Hungary and for the JEC in Switzerland.
Vi välkomnar Sofie och Chamuel till Järla.